In recent years, birds are more and more harmful to vineyards, affecting the quality and quantitiy. People have to try their best to solve this problem.

The most popular method probably the net. But actually it has many disadavantages:
1. Expensive cost
Besides net cost, it needs large labor cost to install and dismantle it each season.
2. Time cost

Each season it needs time to install and dismantle. In busy season, it is hard to catch right time to handle it.
3.Constrains to the grape growth
Bird nets limit grape growth and management, reducing capacity for late spraying and disease management.
4. Storage
Bird nets take up storage space for most of the year when they are not in use.
5. Not effective totally
Bird nets often do not fully protect crops, especially when aging nets create holes that allow birds to move in and out.
6.Helpless in harvest time

The bird nets must be removed prior to harvest, exposing the grapes to birds at a time when they are most attractive to birds.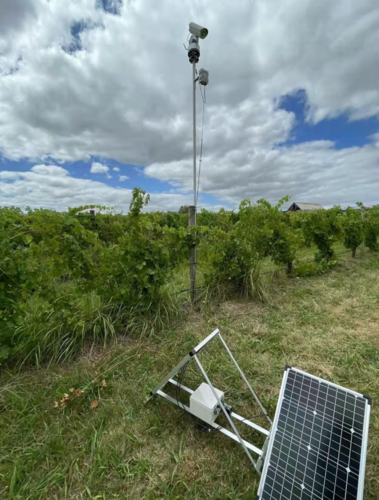 Automatic laser bird repeller uses green light to scare birds. It could work in all-weather and 24/7. So that the grapes bath in the sun every day. Birds do not dare to invade and also will not affect your best timing of picking.
With horizontal 360 degrees and vertical angle 90 degree adjustable, it could realize scanning without dead angle.
The scanning area and time are set by customers according to requirement.
Besides, it can be connected with solar panels as power supply.
To learn more details and price, please contact Ms.Lina by linaxie2020@yeah.net or lina@fan-laser.com. Whatsapp: +86 18765465833